TITLES AND
CREDITS
GUIDE
 
 
INDEX OF
TITLES
 
 
SEASON 01
SEASON 02
SEASON 03
SEASON 04
SEASON 05
SEASON 06
SEASON 07
SEASON 08
SEASON 09
SEASON 10
SEASON 11
SEASON 12
SEASON 13
SEASON 14
SEASON 15
SEASON 16
SEASON 17
SEASON 18
SEASON 19
 
 


LASSIE
Episode Guide:
Season 12
1965-1966
Please note that I have seen every episode of Lassie as listed in this guide. Therefore, although the titles and dates of these episodes have been gleaned from other sources (as cited on the contents page to this episode guide), any description and comments are mine.
Regular Cast:
Corey Stuart: Robert Bray
Semi-Regular Cast:
Hank: Clyde Howdy
---
The series was telecast in color starting this year.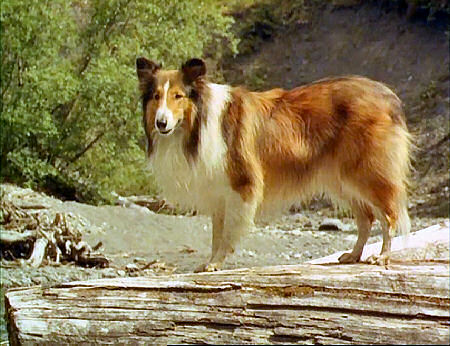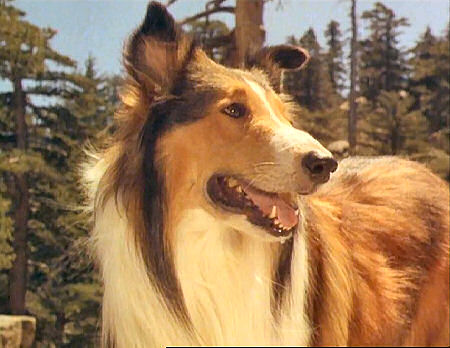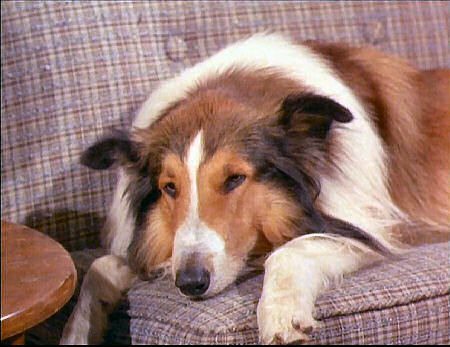 "Lassie Meets a Challenge" (09/12/65):

When Lassie finds a doe that was struck by a car, she helps the injured animal to cover and then fetches Corey. But the pregnant deer is being stalked by a cougar, so while Corey returns to the ranger station to get help for the doe, Lassie gives chase after the big cat. Doc Shelton: Hugh Lawrence.
   • Trivia: This takes place at the Sanger Ranger Station in the Eagle Lake National Forest. (There's an Eagle Lake in California, but it's in the Lassen National Forest.)
   • Note: "Baby" is playing Lassie in this episode. Interestingly enough, although "Mire" plays Lassie for Seasons 12 and 13, it's "Baby" who's in the closing credits.

"Sudden Fury" (09/19/65):

While their masters are discussing business, Lassie and Spike (from "Lassie and the Fugitive") are out chasing rabbits and being pestered by a persistent magpie—until Spike chases the bird and ends up in a river swollen by a flash flood; Lassie leaps in to help him. Hearing about the flood, Corey and Barney ride out to find their dogs, only to find them trapped on a tiny sandbar in the midst of whitewater. Barney: Cal Bartlett. Coop (Radio Dispatcher at Hightop): H. Lloyd Nelson.
   • Trivia: This takes place at the Summit Peak Ranger Station in the Stanislaus National Forest, and the dogs are trapped in San Carlos Canyon (there's a Big Canyon in San Carlos, CA).
   • Note: "Spike" makes another guest appearance, this time playing "himself."

"Lassie and the Dynamite" (09/26/65):

Even the crew is taking it cautiously on a badlands dynamiting project that will create a new lake, but it's Lassie to the rescue when two boys playing hooky wander into the blasting site: when she can't lead them off the site herself, she races instead to lead Corey in a helicopter chase to catch the boys before the dynamiting begins. Sam: Lane Bradford. Frank Driscoll: Lee Farr. Joe: William Phipps. Ken: Pat Coghlan. Russ: Johnny Bangert.
   • Note: "Ken" and "Russ" are also the names of the brothers in season 16's "Lassie and the 4H Boys." Both episodes were written by Vernon E. Clark, so perhaps they are the names of Clark's sons.

"Lassie and the Seagull" (10/03/65):

When Corey visits Andy Handshaw, an old friend of his father's, Lassie meets a seagull who's "a fish out of water"—his injuries are being cared for at in Andy's desert home until he can be returned to the sea. But the bird escapes his cage after a hawk spooks him and, as Lassie tracks him, he is stalked by the persistent hawk, a snake, and an ocelot. Andy: Paul Newlan.
   • Trivia: Corey's father was also a forest ranger, mentioned previously in "The Wayfarers."

"Charlie Banana" (10/10/65):

A rash of thefts—including Hank's beloved ukelele—at the ranger station have the everyone perplexed, but Lassie knows the culprit is a [yet another] chimpanzee. (And, frankly, the other rangers are glad the ukelele is gone!) Bill Westcott: Burt Douglas. Joe: Victor French. Sheriff: House Peters Jr. Hank: Clyde Howdy. Forest Ranger: John McKee.
   • Trivia: This takes place at the Franklin Ranger Station in the Eagle Lake National Forest.
   • Note: That big field of trees looks just like the one Timmy and Lassie used to run around; in fact, I could swear in one scene you could see the back of the fallen log where Timmy carved their names.
Hank is writing and singing a song in this episode, a ballad-type piece that everyone, including the usual faithful Lassie, attempts to avoid. Thanks to Chuck Campbell, who sent me this transcription of Hank's song:

"Ballad of Charley Banana"

Lovin' a woman's a gamblin' game,
It brings you nothin' but sorrow and pain.

I'll tell you my story, a sad one but true,
And maybe you'll see it donšt happen to you

We met in October, oh, she was a queen,
The prettiest woman that youšve ever seen.

She'd love me forever, yes that's what she said,
But then in November, she run into Fred.

Now Fred was no bigger, nor better than Hank,
But Fred had more money, more dough in the bank,

And so in December, on a cold gloomy day,
My own true love she got stolen away.

I'm sad and I'm lonely as a man can be,
Because that fickle woman made a monkey of me.
"In the Eyes of Lassie" (10/17/65):

While in snow country testing a new device for measuring snowfall, Corey must rescue the scientist who created it, victim of an altitude spasm—and as a result is snowblinded. To reach help, he must rely on Lassie. Dr. Karl Hanson: Karl Swenson.
   • Note: Swenson had made other guest appearances, went on to a couple more, and then became series regular Karl Burkholm in Season 18.

"Trouble at Paradise Lake" (10/24/65):

Fish are vanishing from Paradise Lake and Corey must decide whether to shut down old Andy's fishing dock when the Government turns down the man's request to restock the lake. To salvage Andy's business, Corey turns to Scott Frasier for help. Andy McGrew: Chick Chandler. Scott Frasier: Morgan Jones. Hank: Clyde Howdy.
   • Trivia: This takes place at the Franklin Ranger Station in the Franklin National Forest.

"Little Dog Lost" (10/31/65):

In Ocala, Florida, Corey and Lassie meet Mattie Dawes ("Lassie and the Swamp Girl") once more, on her way to the local town to buy her own puppy. But the inquisitive pup, named "Tug," escapes into the swamp on the way home, easy prey for marauding alligators. Mattie: Suzanne Cupito. Don: John Alvin. Ben Simpson: Harry Harvey Sr.
   • Trivia: This takes place at the Seminole Ranger Station in the Ocala National Forest. Mattie buys Tug at the Willow Corners Feed and Grain store.
   • Note: Before Disney invaded central Florida, Ocala, Orlando, Kissimmee, and environs were sleepy country towns, devoted to farms and ranches. This episode gives you a look at how it was. Notice the bouncy piece of music that plays as Lassie and Mattie walk to the store; this was last heard in the final year of Timmy episodes.

"Lassie's Time of Peril" (11/07/65):

Corey orders Lassie to wait ashore while he runs a chain across a soon-to-be overflowing river to stop the progress of logs downstream, but she jumps in to retrieve his dropped oar and is swept downstream, enperiled by both rapids and logs. She makes it to safety in the midst of the rapids, then Corey must rescue her—and still set the chain. Rangers: Buck Young and Roy Engle. Brad: Lloyd Nelson.
   • Note: Brad mentions the White, Modoc, and Twin Forks Rivers, which, if this was an actual location, might pinpoint where it takes place.

"In the Midst of Splendor" (11/14/65):

Ignorant motorcyclists destroy ancient trees in a bristlecone pine forest, then endanger the young woman on horseback searching for them. While she is unhurt, her horse flees and Lassie must give chase. Johnny: Bobby Diamond. Peter: Bob Random. Terri Young: Brooke Bundy. Doyle: Clive Wayne.
   • Trivia: Terry's horse is named "Coco."
   • Note: Filmed in the Inyo National Forest, also the setting for the Whitman Lassie novel, Lassie and the Mystery of Bristlecone Pine. Bristlecone pines are the oldest single living organisms on Earth; some trees are over 5,000 years old. The second Lassie appearance for Bobby Diamond, who starred in the children's horse series, Fury.

"Lassie Saves a Life" (11/21/65):

Corey and Lassie befriend Tom, a spunky motherless boy camping with his father, who are incommunicado when a report comes in about rabid squirrels in the area—Corey suspects Tom may have been bitten by one. Hank: Clyde Howdy. Mr. Driscoll: Garry Walberg. Tommy Driscoll: Frankie Kalbott. Lookout: Barbara Fuller.
   • Note: Walberg played Corey's writer friend Jed Bingham in "The Disappearance." Jed Bingham returns in "Lassie and the Buffalo," played by a different actor. This once again takes place in the Eagle Lake National Forest, with the Driscolls camping at Sherman Lake.

"The Waif" (11/28/65):

At a desert site for a new aqueduct, Corey and his working partner Walt must take Lassie to the vet after she falls on a cactus plant. The town veternarian reluctantly treats her; he has given up on life since the death of his wife and is planning to close shop and move away. Later Corey and Walt find a young, feral collie hiding out in a deserted Spanish-American village. They rescue the puppy and try to start to tame it, but during a wind storm the puppy escapes and is trapped under a tree back at the village. Lassie can think of only one person to go to for help. Doc Reynolds: Russell Thorson. Walt: Med Flory.
   • Trivia: This takes place at the Cottonwood Ranger Station at the Dalton National Forest. (I found a Dalton Lake in the Lolo National Forest, but not a Dalton National Forest.)

"Crisis" (12/05/65):

Up-and-coming ranger Wes Reed requests a transfer since his city-bred wife is deathly afraid of the woods—until the day a bear attack leaves a fellow ranger needing immediate help. Can Ann and Lassie reach the ranger's cabin in time when the bear stalks the ranger station? Ann Reed: Joan Freeman. Bill Dayton: Mike Road. Wes Reed: Robert Patten. Supervisor William Hoffman: Richard Damler.
   • Note: If viewers find Mike Road's voice familiar, they may be animation fans: Road was the voice of "Race Bannon" on Hanna-Barbera's classic Jonny Quest adventure series. Joan Freeman later played veterinarian Sue Lambert on the final season of Lassie This takes place at the Cascade Guard Station in the Franklin National Forest.

"Pitfall" (12/12/65):

In Los Angeles, a lonely pigeon knows he's found a friend in Lassie—but she may inadvertantly lead him into danger when he follows her from the Los Angeles County Museum to the LaBrea Tar Pits, where he meets up with a comely female pigeon. Jim: Whit Bissell. Caretaker: Charles Seel.
   • Note: We see parts of the Los Angeles County Museum and one of the La Brea Tar Pits in this episode, which also contains an incongruity: the pigeon's companion flies into the tar pit escaping a maurauding cat, but after Lassie rescues it, it's perfectly clean! Anyone who's seen sea birds caught in oil slicks knows how deadly that coating of oil is because it sticks to the bird's feathers. They must be cleaned with grease-cutting detergent before they can function again. The plane seen landing at the beginning is a Convair 990 "Astrojet" in 1965 United Airlines livery, at one time one of the fastest planes in the world.

"Temper the Wind" (12/19/65):

Fast-moving thunderstorms start a forest fire and endanger the lives of Carlos Renzzi, a Hispanic shepherd who has lived under Moccasin Ridge all his life, and his flock of sheep, including Lassie's favorite, a new lamb. When Corey asks him to leave, Carlos will not leave his sheep nor the family cemetery which contains his parents' graves as well as his wife's. Carlos: Ernest Sarracino. Pilot: Ron Hagerthy.
   • Note: Hagerthy previously appeared in the Jeff episode "A Place for Everything." The scene of Lassie rescuing the lamb from the fire is seen as the first scene of the introductory episode of The New Lassie.

"The Gift of Life" (12/26/65):

After Will Harper is injured when his car slides off a snowy road, Lassie finds his pregnant collie Lady wandering in the woods, about to go into labor, and helps her take refuge in a cave in the woods to have her litter. Will: David Macklin. Sam Kendall: Henry Norell. ("Bob," the other ranger, is uncredited.)
   • Note: This is a black and white episode with credits from the previous season. No idea why.

"Lassie Catches the Poachers" (01/02/66):

While Corey checks out a new erosion prevention device called a "gabion," Lassie discovers that a father and son are pulling in a lot of fish by using dynamite to stun them. While the pair help her after she's stunned by the dynamite, they're less than pleased when Lassie steals a stick of it. Hank: Clyde Howdy. Walt Ellsworth: Morgan Shaan. Frank: Jim Henaghan. Dad: Douglas Kennedy.
   • Note: This plot device, which was used previously in a Jeff episode, was resurrected for one of the cartoon stories in The New Adventures of Lassie from Dreamworks.

"The Town That Wouldn't Die" (01/16/66):

People are deserting the tourist town of Pine Lake after the source water for the lake is diverted, causing the lake to dry up . Tom, a native of Pine Lake, is determined the town will not die and joins Corey and Lassie on a search for a new water source. At first they search using scientific methods, then Corey gets the idea to follow the local wild creatures, since they require a source of water to live. When Lassie saves a squirrel from a hawk, the little creature inadvertently shows her a place that may be a new source—but will the townspeople believe them and help? Tom: Walter Sande. Jack: Phil Chambers. Bert: John Cliff.
   • Note: Is Pine Lake in Pine Valley, the little town that was the scene of several episodes in Season 11? Corey comments to Lassie that it's "not the Pine Lake we knew."

"Just One Old Cow" (01/23/66):

Rancher Jackson Hays says that Ben Adams' pet cow Clementine is his property, despite Clementine's efforts to return to the elderly man after he saved her life. Corey returns the cow for Adams, but she escapes with Hays in pursuit. Then a rattlesnake spooks Hays' horse and the only help within hearing distance are Ben Adams and Lassie. Adams: Andy Clyde. Hays: Richard Crane. Stockman: Richard Tretter.
   • Note: This was the last Lassie show Andy Clyde ever appeared in.

"The Outcast" (01/30/66):

While feeding her forest friends, Lassie comes upon a man trapping animals in box traps; she springs one, frees a skunk from another—and the grateful animal becomes Lassie's shadow.
   • Note: There are two very cute jokes in this episode: in one, a tortoise comes out of the woods to feed on Lassie's goodies; a rabbit suddenly decides he has to "race" the animal. In the second, a scene akin to one in Disney's Lady and the Tramp, Lassie recruits a beaver to get the skunk out of his predicament—only to have the industrious animal "turn tail" at the sight of the striped critter.

"Cradle of the Deep" (02/06/66):

While she and Corey visit the latter's old college buddy Jim in his mobile home on the California coast, Lassie befriends two sea lions, although Jim pooh-poohs Corey's assertion that the animals are communicating with each other. But when Lassie is knocked off balance and tossed into the foaming tide, the sea lions try to help her. Jim: Hugh Beaumont.
   • Note: Beaumont was a guest star in the second Lassie episode ever filmed, "The Well."

"The Homesick Hound" (02/13/66):

Hank's Aunt Sam moves to the area with her bloodhound Rufus, but the homesick dog refuses to settle down at any of the houses that Hank and his aunt find. Hank: Clyde Howdy. Samantha Whitfield: Meg Wyllie.
   • Note: Meg Wyllie played the spokesperson of the alien race which kidnaps Captain Christopher Pike on the original pilot film to Star Trek.

"The Silent Threat" (02/20/66):

A rancher, thinking the chemicals will harm his horses, reluctantly allows trees on his his land to be sprayed for budworms to head off a further infestation. Then one of the horses dies, and a little palomino colt that Lassie befriended before the spraying becomes very ill. The rancher plans to sue the Forest Service unless another cause can be found. Jim Borrego: Richard Devon. Carl: Patrick Waltz. Ranger: Dick Winslow. Pilot: Jim Drum.
   • Note: [SPOILER] The culprit turns out to be loco weed.

"The Friendless" (02/27/66):

Young Michael Williams, a runaway from an honor camp who loves animals but who does not want to be trapped behind walls, befriends Lassie when she helps him round up a runaway colt. After she leads Corey to where he's camping out, Mike flees—but Lassie is right behind. Mike: Richard Eyer. Tom: House Peters Jr.
   • Note: Check out "the Johnson home" that Mike burgles early in the episode; it's a redress of the set for Cully Wilson's house, both inside and out. It looks as if Corey is still at the ranger station where "Charlie Banana" took place.

"Avalanche" (03/06/66):

Corey is helping the rangers of the Summit Ridge station on avelanche duty. Before embarking on the job, he shows rangers Brett and Ken a signal balloon device to be used if trapped in an avelanche. He never dreams how soon he will need to use it: while going back to the station to fetch more explosive charges, Corey's truck overturns in an avelanche-prone area and with Lassie's help he must deploy one. Both Lassie and the balloon unerringly lead Corey's rescuers to the site when an avelanche does indeed bury the truck. Brett: Lawrence Montaigne. Ken: Chris Hubbard. Summit Ridge Dispatcher: H. Lloyd Nelson.
   • Trivia: Takes place in the Franklin National Forest at the Summit Ridge Ranger Station.
   • Note: Lawrence Montaigne played "Stonn," the lover of Spock's intended T'Pring in the "Amok Time" episode of Star Trek.

"Babes in the Woods" (03/13/66):

Two raccoon kits are separated from their mother when a coyote attacks her. As the mother is swept downriver and then once ashore makes her way back to her nest, Lassie shepherds the babies back to their nest and even feeds them from a baby bottle she begs off two new parents camping nearby. Then she must hurry back to save one of the babies, who is trapped on a small bush overlooking a rocky canyon. Chris Bronson: Ray Hamilton. Jean Bronson: Susan Crane.
   • Trivia: The Franklin National Forest has a Big Pine Camp Ground (where the Bronsons are staying).
   • Note: Corey does not appear in this episode; Hank is surveying the campgrounds with Lassie when they meet the Bronsons.

"Lassie's Rescue Mission" (03/20/66):

Lassie takes charge to find a new home for a family of rabbits displaced by a range-clearing project, but must rescue one of the baby bunnies when it goes exploring and is hunted by both a hawk and a cougar. Whit: Mark Tapscott.

"The Doll" (03/27/66):

Corey and Lassie manage to find seven-year-old Kathy Vaughn, lost after wandering away from the Pine View campgrounds, but the child hovers in shock at the hospital, calling for her lost doll. Kathy: Kym Karath. Mr. Vaughn: Tyler MacDuff. Steve: Mark Tapscott.
   • Note: Karath played the youngest of the the Von Trapp family children, Gretl, in the film The Sound of Music.

"The Untamed Land" (04/03/66):

Hermit Boone Sawyer is against power lines cutting through the woods as it would destroy a beautiful wilderness area; when the man directing the job breaks down in the forest, Boone and Lassie show him what he would be destroying. Boone: John Anderson. J.H. Alpert: Dick Clark. Surveyor: Victor French.

"The Day the Mountain Shook" (04/17/66):

While leading a hike at a camp for boys with hearing impairments, Corey and Lassie help a youngster named Joey, whom Corey finds out is psychologically rather than physically deaf after witnessing the death of his parents in a car crash, nurse an injured squirrel. But an earthquake strikes on the day Joey decides to return the animal to the woods. Jim Owens: Skip Homeier. Joey: Ronald Klieger. Other Campers: Jeffrey Dichter, Jeffrey Rees, Beau Baker, and Matthew Brandfield.
   • Note: The boys cast in this episode were from the Mary E. Bennett School for the Deaf.

"The Vigil" (04/24/66):

Lassie tries to lead a scruffy little terrier from a rockslide area, but the faithful animal refuses to move until Lassie finds his lost master, a young man who's slipped over a cliff and injured his foot. Lassie must help him get up the cliffside and then navigate him back to his dog, but a chasm blocks their way. Karl: Michael Burns. And "Sandy."
   • Note: This is another black and white episodes with the previous year's credits. Burns previously played Timmy's blind friend in the eighth season episode, "Joey."

"The Strongest Instinct" (05/01/66):

Young Bill Pederson, now in charge of the family's lumber business, undertakes to do the dangerous job of topping an oversized pine tree after the usual worker falls ill, but is at first stopped by his overprotective mother—right in front of his workers. Then when he does undertake the task, it looks as if her worst fears will come true. Bill Pederson: Tim McIntire. Maggie Pederson: Ann Doran. Josh: Robert Williams.
          »» Thirteenth Season          «« Eleventh Season          •• Episode Guide Contents Page