TITLES AND
CREDITS
GUIDE
 
 
INDEX OF
TITLES
 
 
SEASON 01
SEASON 02
SEASON 03
SEASON 04
SEASON 05
SEASON 06
SEASON 07
SEASON 08
SEASON 09
SEASON 10
SEASON 11
SEASON 12
SEASON 13
SEASON 14
SEASON 15
SEASON 16
SEASON 17
SEASON 18
SEASON 19
 
 


LASSIE
Episode Guide:
Season 1
1954-1955
Please note that I have seen every episode of Lassie as listed in this guide. Therefore, although the titles and dates of these episodes have been gleaned from other sources (as cited on the contents page to this episode guide), any description and comments are mine.
Regular Cast:
George Miller "Gramps": George Cleveland
Ellen Miller: Jan Clayton
Jeff Miller: Tommy Rettig
Semi-Regular Cast:
Sylvester "Porky" Brockway: Donald Keeler
Constable Clay Horton: Richard Garland
Jenny the operator: Florence Lake
---
Did You Know?: The theme music for the Jeff episodes was first heard in one of the Dr. Christian movies. Read more about the Lassie theme songs and visit my Lassie Titles and Credits page.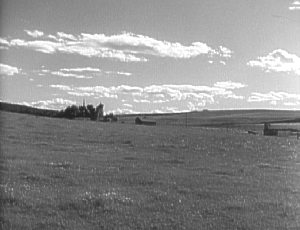 That familiar scene of sunrise on the farm.
"Inheritance" (09/12/54):

Premiere episode/pilot. Jeff inherits Lassie from the late Homer Carey, but the young collie is reluctant to leave the Carey home and keeps running away from the Miller farm to return to her old house. Gramps tells a heartbroken Jeff that Lassie must make her own decision. In the meantime, Carey's hired hand has his own reasons for wanting Lassie out of the house. Caleb Brown: Will Wright. Matt Willis: Myron Healy. Mr. Peeves: Jim Hayward. Edgar Carey: Lee Erickson. Emmett Carey: Everett Glass.
   • Trivia: This is one of only a few episodes where you see the front of the house.
   • Note: Lassie in this episode and in "The Well" (thought of as the second pilot) is portrayed by "Pal," the original Lassie of the movies. Subsequently the role is played by "Lassie Jr.," who was originally stated to have been Pal's son; recently it was revealed that Lassie Jr is the actual foundation sire of the remainder of the Lassie line. See "The Well," below, for a recent, surprise revelation about this episode, and about differences between these two episodes and the remainder of the Jeff episodes. Mr. Peeves, the postman, is never seen again; there is a lookalike postman two episodes on, Mr. Selby.

"Arithmetic" (09/19/54):

Confused by fractions because he's not studying, Jeff fails two arithmetic tests, so his teacher sends him home with a note. Ellen is disturbed by how lightly he takes his failures and arranges a Saturday makeup test, forgetting Gramps was taking the boy to the circus that day. Miss Amelia Robbins: Carol Brannon.
   • Note: According to Ace Collins' Lassie book, "The Lion" was Porky's first appearance on Lassie, but this story was apparently broadcast first. Perhaps what Collins meant was that "The Lion" was the first Porky story filmed.

"The Colt" (09//26/54):

After being scolded by Ellen for ignoring Jeff, Gramps brings him home a colt Jeff names "Domino." But in his enthusiasm over having a horse, Jeff ignores Lassie, then goes out searching for her when she doesn't return home. Mr. Selby: Walter Baldwin. Doctor: Phil Chambers.
   • Note: Gramps pronounces the name of the electronic instrument as a "rad-ee-oh." I am not certain whether this is a regional pronounciation from George Cleveland's childhood, or an old-fashioned pronounciation of the word that Gramps is made to use to show his age.

"The Gun" (10/03/54):

When Jeff finds his dad's rifle in the barn and wants to learn to use it, Gramps okays its use unloaded although Ellen is still terrified each time she sees it. But when the boy inadvertently gets some ammunition, he learns a hard lesson about gun safety. Joe King: Trevor Bardette.
   • Trivia: Jeff is eleven.
   • Note: In the Timmy episodes, Bardette changes names to becomes "Sam Burke." Ellen is usually such a calm, rational character that her hysterical reaction to the rifle is quite startling.

"Mr. Peabody" (10/10/54):

Gramps is jealous when the flamboyant elderly traveling farm worker he hires for odd jobs charms Jeff with his tall tales of fighting Indians and other adventures—then thinks he's really up to something when he catches him skulking around the house after hours. Lester Peabody: James Bell. Clay: Richard Garland. Jenny: Florence Lake.
   • Note: First appearance of Clay Horton, the town constable. James Bell later appears in the sixth season episode "Star Reporter" as newspaper editor Ira Caldwell.

"The Convict" (10/17/54):

An escaped convict Jeff and Lassie meet near the lake threatens to harm Ellen and Gramps if the boy doesn't get him food and clothing, so Jeff hides the man in his secret cave. Joe Baker: Dabbs Greer. Clay: Richard Garland.
   • Note: First appearance of Jeff's cave, which is used in a couple of later episodes, and which plays a large role in the Whitman novel based on the series, Lassie and the Mystery at Blackberry Bog. Check out the product placement: When Ellen calls Jeff from the grocery store and warns him to stay inside, she is standing next to several full shelves of the sponsor's product, cans of Campbell's soups. Later, when she is at home and putting her purchases up on the pantry shelves, you can see many more cans of Campbell's products on the shelves, including a big can of pork and beans.

"Feud" (10/24/54):

When Gramps quarrels with Matt Brockway after a hotly contested checker game, both men forbid the boys to associate with each other. After Jeff and Porky's first attempt to fix the problem goes horribly wrong, the boys hide in the woods in hopes that in "saving" them Gramps and Matt will be friends again. Brockway: Paul Maxey. Birdie Brockway: Marjorie Bennett. Clay: Richard Garland.
   • Trivia: The boys hide in Tucker's Woods and eat blackberries at Tucker's Bog—this is the setting for the Whitman book Lassie and the Mystery at Blackberry Bog.
   • Note: Notice how Ellen primps her hair when Clay shows up!

"The Lion" (10/31/54):

Jeff and Lassie are in the woods hunting rabbits with his new bow and arrow when they see a African lion prowling about, but no one believes him. Then Gramps has to take Ellen to Capitol City to help her mother, and the lion begins stalking the farmyard! Jenny: Florence Lake. Clay: Richard Garland.
   • Note: This is a classic Jeff episode with some behind-the-scenes adventures: apparently the lion escaped his trainers and went rampaging through the set. We never do meet Ellen's mother during the course of the series. That might have made an interesting episode.

"Gramps" (11/07/54):

When Gramps has chest pains, Jeff and Ellen take over his chores until Doc Stuart can diagnose the problem. But Gramps chafes under the restrictions, and his sneaking out after bedtime almost proves his undoing. Dr. Walter Stuart: Dayton Lummis.
   • Note: Watch for the very funny scene where Jeff teaches Lassie to bark every time Gramps sits up!

"Lassie's Pups" (11/14/54):

Lassie's about to have puppies, but as a storm rages outside, Gramps must respond to the summons of the volunteer fire department's bell, leaving Ellen and Jeff to tend her. As her labor intensifies with no result, Jeff begs Ellen to let him go for the vet. Dr. Peter Wilson: Frank Ferguson. Mrs. Wilson: Frances Morris.

"The Job" (11/21/54):

When department store owner Phineas Monroe hears Ellen singing at church, he offers her a job singing on the radio show he sponsors—but she and Jeff must take an apartment in the city and leave Lassie with Gramps to do so. Monroe: Thurston Hall. Reverend Harding: Raymond Greenleaf. Cranky Neighbor: Anne O'Neal.
   • Trivia: The radio series, Monroe's Musicale, sponsored by Monroe Furniture, is broadcast weeknights from 6 to 7 p.m.

"The Carnival" (11/28/54):

While at the carnival, Jeff leaves Gramps playing with "Checkers Charlie" and attends the sideshows, but makes the mistake of showing a carny at the trained dog tent Lassie's tricks. Thinking she can be a headliner, show owner Clegg and the carny steal her. Clay: Richard Garland. Clegg: Henry Slate. Dog Show Carny: Victor Perrin. Checkers Charlie: Raymond Hatton.
   • Note: In the Corey Stuart episode, "Most Dangerous Game," Lassie puts out a cigarette and Corey tells the reporter that no one taught her to do so. Well, it looks like Jeff is the one who taught her to do it! "Vic" Perrin was a noted voice actor who appeared in many radio and television roles. He was famous as the Control Voice in the spooky fantasy series The Outer Limits. There is a later Timmy episode with this same plot, "The Chase."

"Sale of Lassie" 12/05/54):

Jeff overhears only part of a conversation about the large amount of money required for Gramps' upcoming surgery for a slipped disc and decides to sell Lassie to Porky's cousin Tony to help raise the funds. Mike: Robert Foulk. Fred Brockway: Dick Wessel. Birdie Brockway: Marjorie Bennett. Dr. Walter Stuart: Dayton Lummis. Sam: J. Pat O'Malley. (The actress playing the elderly woman who stops to help Jeff and the other woman playing Mike's wife are uncredited.)
   • Note: Robert Foulk later portrays Sheriff Sam Miller in the Timmy episodes.

"The Rustlers" 12/12/54):

A calf Jeff is raising for the county fair vanishes the same night Lassie comes home injured and covered with mud—then she mysteriously starts chasing Ellen's car and a truck driven by the foreman of the Staples' farm, who tells Gramps he accidentally slaughtered the missing calf. Jenkins: Bill Phipps. Head Thief: Richard Karlan.
   • Trivia: Jeff's favorite radio program seems to be Two-Gun Marshal.

"The Fighter" (12/19/54):

Jeff is awed by Pete, a man he met on the road who was able to fix his bicycle. and is excited when he discovers he'll be working for Gramps during the harvest. But when Pete backs down from a fight with a bullying fellow hired hand, the boy pegs him as a coward. Pete Barnum: Christian Drake. Frank Galloway: Gordon Jones.

"The Contest" 12/26/54):

Melanie, the pampered but emotionally disturbed daughter of Ellen's old friend Tom McLaughlin, is staying at the farm at the same time Lassie is participating in the annual dog race. Determined to hurt Jeff by making Lassie lose the race, Melanie feeds the collie some meat—which she is unaware is dangerously spoiled. Dr. Wilson: Frank Ferguson. Melanie McLaughlin: Susan Seaforth. Tom McLaughlin: Robert Clarke. (The credits to the syndicated versions of this episode seem to have been switched with another episode. While Ferguson is listed in the credits of the syndication print, the only other person credited is a "Frances Morris," who, a correspondent tells me, would have been too old to play the role, and, in addition, a Frances Morris appears in "Lassie's Pups" as Doc Wilson's wife. However, Susan Seaforth, later Susan Seaforth Hayes of Days of Our Lives, has noted about her career that as a girl she played in a Lassie episode in which she poisoned Lassie. It can only be this one. The credit for Tom McLaughlin comes from the IMDb.)
   • Trivia: Doc Wilson is an official in the 4H. Jeff has a bantam rooster named Binkie.
   • Note: Some things to notice in this episode. First, Tom seems to be an old friend of Ellen's. Is he an old boyfriend? If so, Jeff and Gramps don't seem to mind as they do next season when Clay askes Ellen to dinner. Tom then was probably a friend of both John and Ellen. Also, when Ellen arrives at the pasture for the dog race, a little boy races up to her shouting "Lassie won, Mrs. Miller!" She swings him up in her arms and he doesn't seem a bit upset by being picked up by a stranger; she then sends the child back to his father. Jan Clayton had a little boy named Joe who would have been about four years old when this was filmed. Could this have been him? And—ooops! Jeff says if Lassie wins the dog race, a yearly event for children and their dogs, it will be her third time in a row and they can keep the winner's cup. But in actual television chronology, he's only had her about four months!

"Runaways" (01/02/55):

After a fisherman sees Lassie "frothing at the mouth" (she drank from a bowl of a soap solution Jeff used for blowing bubbles), Clay arrives to take her to the pound for observation—but Jeff runs away with her and eventually hops a boxcar out of town. Clay: Richard Garland. Matt Brockway: Paul Maxey. Jason: Paul Burns. Tex: Bill Nelson.
   • Trivia: Doetown and Little River are two towns near Calverton, and Little River is where the county pound is. Clay had to shoot Lind Herbert's dog due to his having contracted rabies from foxes in the area. Greenville and Blair are two towns on the way to Capitol City. Arriving in Capitol City, Jeff bumps into Matt Brockway in front of the same feed store that Gramps patronizes in the second season episode "The Dog Catcher." Matt Brockway's car license plate number is 3P5037. The hobo tells Jeff the train will be "across the state" by morning—and that that distance is 200 miles.
   • Note: As in "The Injury" later in the season, this is a very different Lassie from the wildlife protector she'd become in later seasons; Ellen states she caught and killed a fox near the henhouse.
   • Incidentally, if we're looking for hints where some Capitol City scenes were filmed, this episode is a dandy for figuring things out. The feed store Matt Brockway comes out of is Albers Feed, between a Canoga Service Center and Sturtevant's Auto Parts. If Sturtevant's hasn't moved or moved much in the resulting fifty odd years, it looks like this was filmed at the intersection of Van Nuys Boulevard and Saticoy Street, although Google Maps doesn't show if there's a rail yard nearby. If it's the same place, there is a big U-Haul facility there in 2013. Also, Roscoe Boulevard, where Jeff and Lassie hop the back of a truck is a few miles up Van Nuys in the neighborhood of Northridge, again, now a very built-up area; in the episode shot it is mostly countryside with a Shell gas station and another small store or two. Incidentally, gas in "Capitol City" at that time was 249 for regular and 269 for premium.

"The Brat" (01/09/55):

Ellen offers the boys a special treat (the remainder of the money they need for a chemistry set they have been saving up for) if they will babysit a little boy while she is called out to a church meeting. But the angelic-looking kid turns out to be more than Jeff and Porky can handle—and Ellen and Gramps get a lesson about appearances they'll never forget. Malcolm: Timothy Hovey.

"Father" (01/16/55):

The church is holding a father-son event and Jeff doesn't want Gramps to fill in for his dad, especially after a sneering Higgy tells him he doesn't belong because he has no father and that he's a "mama's boy." Jeff is then even more embarrassed when Ellen decides to accompany him instead. Matt Brockway: Paul Maxey. Dr. Harding: Raymond Greenleaf. Higgy: Stuart Torres.
   • Note: We see Jeff's dad, John Miller, listed on a armed services memorial board at church, along with an Arthur Mellon, Thomas Quint, and Benjamin Braun. His name is "irised" to point it out, a film technique from the silent days.

"The Fawn" (01/23/55):

Gramps allows Jeff to keep a fawn whose mother has been killed until it's old enough to survive on its own, but insists Lassie must be kept way from the animal because domestic creatures and wild ones don't get along. Doc Wilson: Frank Ferguson. Joe King: Trevor Bardette. (Corky Moffat is uncredited.)
   • Trivia: Corky Moffat is the only person in the area who keeps hounds. He has at least three of them.
   • Note: The "wolf" looks like a Belgian Tervuran.

"Blind Soldier" (01/30/55):

Fearing he will slip into depression, the parents of a blinded Korean War veteran try to buy Lassie—the young man's own collie Lassie died while he was away and they are afraid to tell him the truth—so Jeff reluctantly loans them Lassie for two weeks until they can break the news to him. Walter Barton: Jonathan Hale. Dick Barton: Paul Richards. Mrs. Barton: Mary Newman.
   • Trivia: Jeff says he's eleven, going on twelve. The Barton estate is named "Green Acres." Domino is now five months old.
   • Note: You see a photo of Jeff's father in this episode, with some of his ribbons, but there is no close-up.

"The Cave" (02/06/55):

Braggart Ben, whose father is helping Gramps with some farm work, lures Jeff and Lassie into a cave with the temptation of a "real live skeleton," which turns out to be an old cow skull. When Jeff won't pay off for this disappointment, Ben traps them in the cave, but then can't get them out, only to endanger Jeff's life when he is knocked unconscious trying to escape. Ben Neilsen: Sammy Ogg. Mr. Neilsen: Robert Malcolm.
   • Note: It's very interesting in this episode that Ellen, who usually stops Gramps from responding to some odd behavior from Jeff with "he needs a good switching" and looks for a psychological reason instead, and even asks Jeff to consider the feelings of other people (like Melanie McLaughlin and Dick Barton), has no mercy when it comes to Ben Neilsen, even though it looks like Ben has led a hard life. When Jeff eventually asks Lassie to "get" Ben for him, not even Ellen takes his part! Also, there's an uncharacteristically creepy scene in the barn, where Ellen appears to be afraid that Ben is going to hurt her.

"The Injury" (02/13/55):

An automobile accident happens just outside the Miller gate and the injured, unconscious driver is brought to the house until he is well enough to be moved. When he comes to, he asks if he "hit the dog"—and Lassie is indeed acting strangely when Porky goes into the barn: she is turning in circles and doesn't look as if she can see properly. Dr. Walter Stuart: Dayton Lummis. (Miss Collins is uncredited.)
   • Trivia: Mrs. Stuart's name is Lydia. Dr. Stuart writes the Miller address as "Route 7." His own office is at 172 Main Street, Calverton. Looks like his telephone number is 8-1.
   • Note: In this episode, Lassie isn't hungry, and it's passed off as her having "caught a rabbit and eaten it." This is a far cry from the Lassie of "The Odyssey" seven seasons later, who won't kill a rabbit to survive in the wild. Watch Gramps falling all over himself to impress the matronly Miss Collins, the nurse Doc Stuart engages to take care of George Walton! The old fellow still has a spring left in his step!

"The Well" (02/20/55):

A businessman wants to dredge an old well on the Miller property to use for his water company, but Gramps won't let them, so the executive schemes to get at the water some other way, to the dismay of his clean-cut young attorney. Mr. Saunders: Hugh Beaumont. Mr. Hazlitt: Tristam Coffin. Liz Barton: Hallene Hill.
   • Trivia: Gramps says he's 68, which as George Cleveland's age at the time. Gramps traded Si Barton a heifer calf for the half acre on which the well was located, forty years earlier, and Gramps never filed the proper paperwork to transfer the deed of ownership.
   • Note: Hallene Hill turns up again four years later as Timmy's elderly aunt, and Hugh Beaumont will appear again during the ranger years as Corey Stuart's friend. This episode and "The Inheritance" were the first two filmed as pilots for the series. Although the kitchen set remains the same, and the exterior shot of the barn and house, they have a substantially different "look" than the other episodes in the series. The screen door is painted black, and the living room, shown only in "The Well," has its entry from a door on the right rather than an archway on the left. There's also no door to the storm cellar in the hallway (seen through the kitchen door to the hall), but a picture and table instead (indeed the arrangement of windows on the outside of the house doesn't seem to match the inside). The interior house doors have more elaborate molding. There's also a big wide gate as the entrance to the farm in these two episodes, with rolling fields behind (these were filmed in British Columbia) rather than the narrow road (with or without mailbox) shown in the remainder of the episodes. Most of the incidental music is different as well. On the DVD release of four Lassie episodes, "A Mother's Love," the fourth, "bonus" episode is an uncut, full color copy of "The Well." (One wonders: if they shot a color version, is there a color copy of "Inheritance" somewhere, too?) This is the only chance to see the kitchen in color in the Jeff episodes; the stove is cream-colored and the wainscoting is a tan color. The china cabinet is a warm brown. The parlor furniture is the same, just in a different room and arranged differently, and you can also see the colors of these old-fashioned pieces, Ellen's organ, and the area rug.

Screencaps from the color version of "The Well."


An idyllic scene of Lassie and Jeff returning from fishing.


A shot of the kitchen.


The original parlor, as Gramps talks with the men from the water company.


Ellen working in the kitchen while Jeff brings in the eggs.


Gramps doesn't like those "pusillanimous polecats"!


Jeff and Lassie spy on the water company men.


Lassie.


Ellen and Gramps read Jeff's note for help.

"The Snake" (02/27/55):

Although Lassie fights off the creature, Jeff is bitten by a rattlesnake, and Gramps and Ellen rush to get him to a doctor. But the truck breaks an axle when Gramps takes a shortcut and they must proceed on foot. Clay: Richard Garland. Dr. Walter Stuart: Dayton Lummis. Jenny: Florence Lake.
   • Note: The sequence with Lassie fighting off the white German Shepherd will be re-used in the fourth season episode "The Crisis." I know Jeff was concerned about whether Lassie was bitten or not, but I can't see any way he missed feeling the snakebite, or likened it to a bee sting, as snake bites are intensely painful.

"The Bear" (03/06/55):

Jeff's long-anticipated fishing trip with Gramps is finally taking place; they're having a great time until Gramps wrenches his back. Jeff is carrying on pretty well keeping the camp going—until a bear begins harassing them.
   • Note: Lassie, is, of course, fighting with a man in a bear suit at the end. This happens in future episodes as well, like fifth season's "Campout."